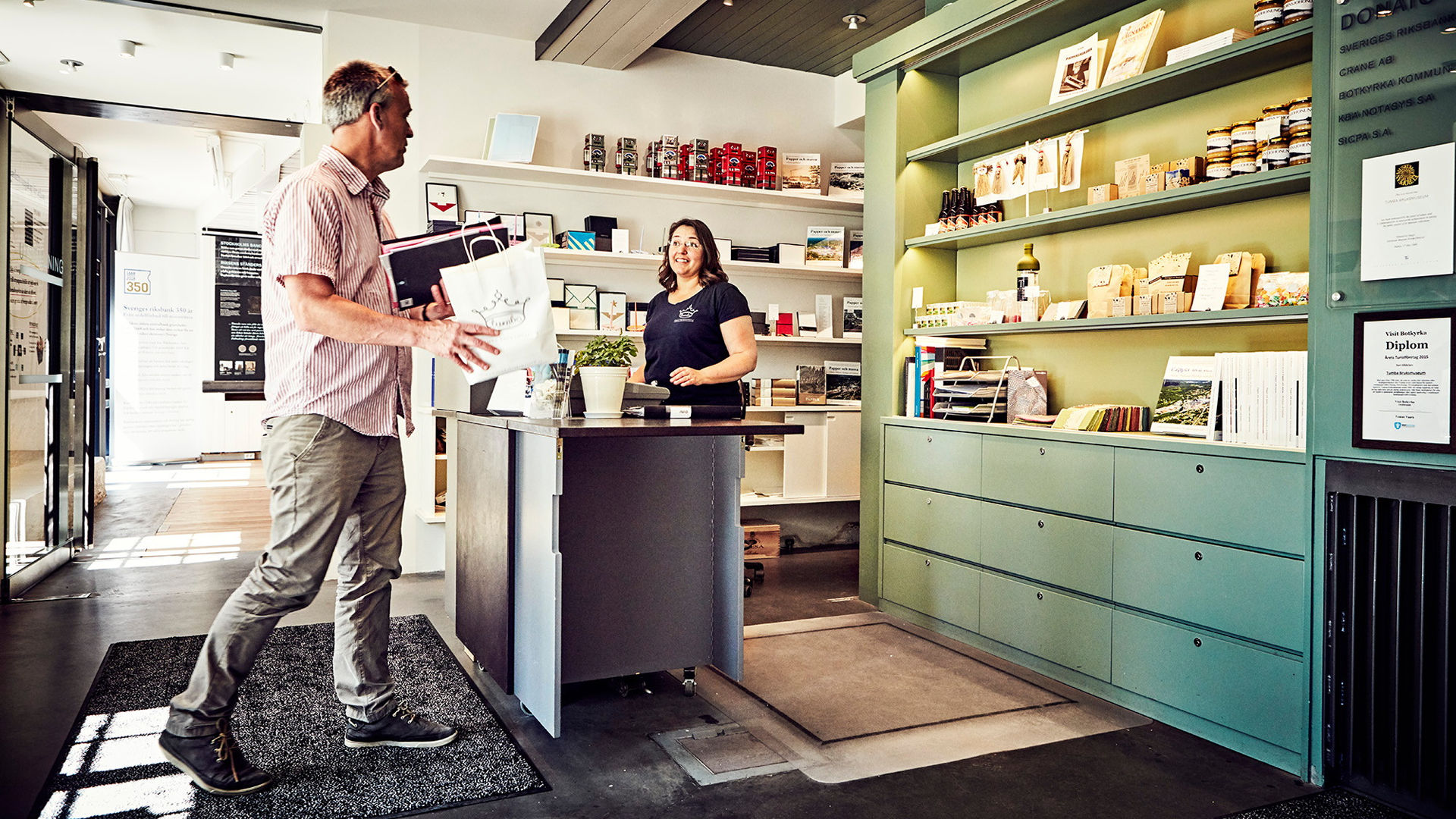 Museum Shop
In the Tumba Paper Mill Museum's cosy little museum shop, we sell our own handmade paper, other paper products, honey, postcards, books and more. Paper is at the heart of the museum's activities, and the shop is no exception.
Our assortment includes Swedish products made in a traditional way. The shop also has some small items for children. We are happy to help you find gifts for christenings, graduations, weddings, baby showers and other celebrations among our assortment. Feel free to ask our knowledgeable staff for assistance!
Opening hours and contact details
The shop is located in the main entrance of the museum, in the Oxhuset building. You do not have to visit the museum's exhibitions to browse the items in our shop, but we would certainly recommend it as admission is free of charge. At the moment, we do not have a webshop. All of our items are purchased on site in our physical shop. We can ship items (extra charge for shipping).
The shop has the same opening hours as the museum.
Payment
We accept cash, credit/debit cards (not Amex) and Swish. We invoice for companies.
Products from Crane & Co
Crane & Co was originally an American family company that made both banknote paper and fine paper, in the same way that Tumba Paper Mill has done for a long time. In our shop, we offer a small range of quality stationery and correspondence cards from Crane & Co.
Locally produced honey
Would you like to taste honey produced at Tumba Paper Mill Museum? Our bees, who live behind the museum's main building, make honey that we sell at the museum when it is in season. The supply is limited, so feel free to contact the museum to check whether we have any honey available for sale or if you have any questions.
Who runs the shop?
Tumba Paper Mill Museum is part of the National Historical Museums. All proceeds from the museum shop and the café go to Tumba Paper Mill Museum activities.
Visit the National Historical Museums website
Order stationery and paper products
We accept orders for personalised cards/stationery for celebrations such as weddings, christenings and parties. These are made by hand at the museum. Take the opportunity to have your name/company logo watermarked on the invitation card.
You may also be interested in:
Invitation cards

Place cards

Watercolour paper 

Diplomas 

Correspondence cards with your own watermark 
If you would like to place an order, please fill out an order request form and we will contact you.
Please note that the delivery time is at least 4 weeks.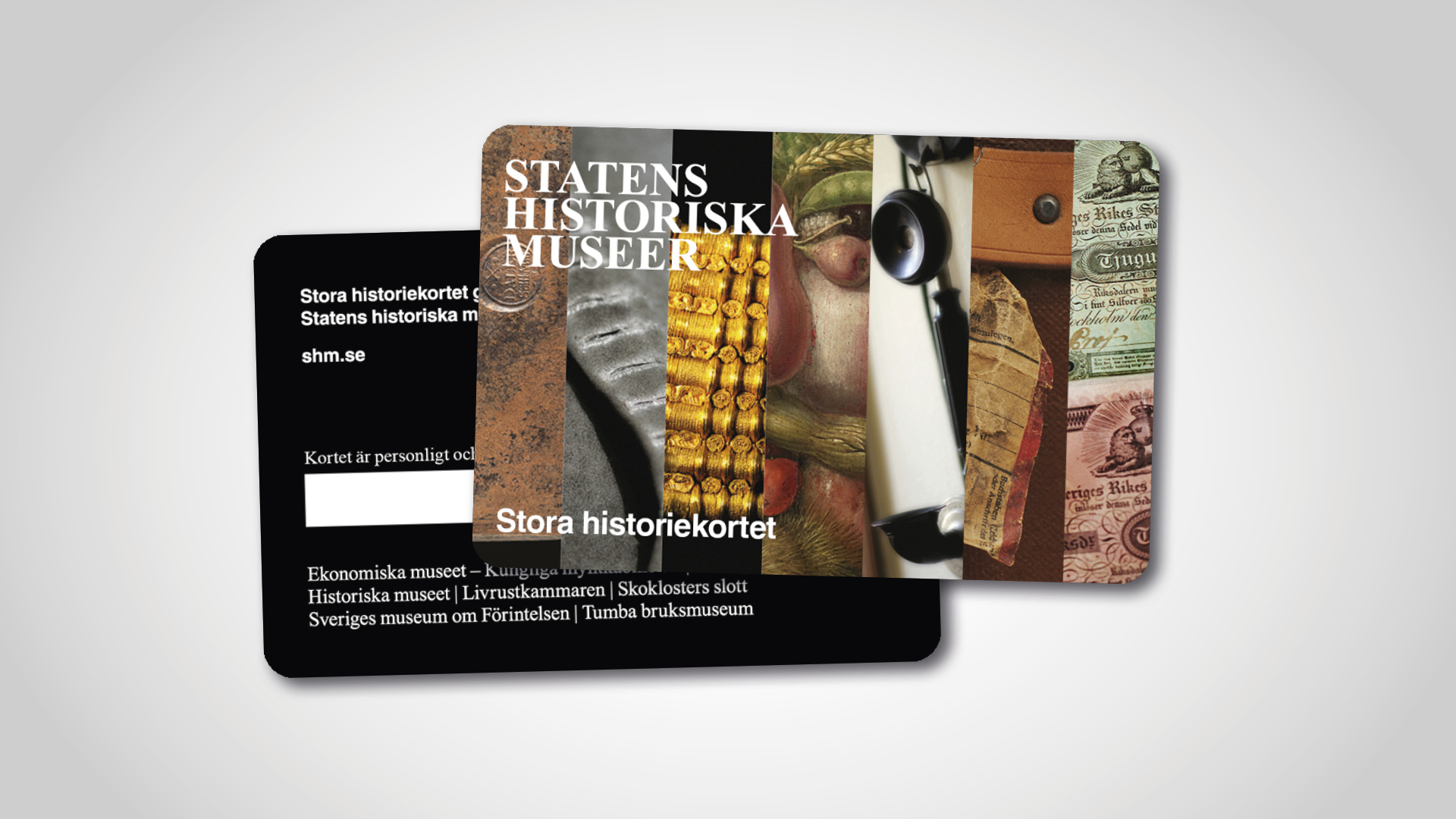 Annual pass
Buy our annual pass, valid for all museums within the National Historical Museums:
Swedish Holocaust Museum (opening June 2023, free admission for all 2023).

Tumba Paper Mill Museum (free admission for all 2023)
The pass gives you free admission to all our permanent and temporary exhibitions, as many times as you wish during the year, from the date of purchase. It does not grant admission to guided tours, lectures or other programs where a fee is charged. You can buy the pass at each museum shop/reception. The pass cannot as of yet be purchased online. Wishing you a historic summer!
You may also be interested in